January 29th, 2019
From Gray Photo Studio Blog, Nov. 2018

Artists Supporting Artists
Over the years I have connected with some great artists online. The majority are photographers, and mostly in the black and white medium.
We have messaged, shared each other's work and worked through technical difficulties. It's been a great support system!

Although many of us are still pinching pennies to get by, the desire to support one another is strong. I try to buy their work when I can afford to, usually in forms of greeting cards or smaller prints. By the way, I have a great collection of these things from over the years, which makes it even more enjoyable. How many people can say they know the artists personally whose work hangs on their walls?

My most recent purchase is from a well know photographer who has made a name for himself through prints, licensing, and exhibits. I don't know how he does it, well other than have great work of course, but he's succeeded in all of the outlets I aspire to.

I wanted to thank him for some behind the scenes help he offered that really saved me. He's quite humble and says he's done nothing, and happy to help, but it would have taken me hours if not days to sort out some technical issues I was having.

I purchased a set of cards as a small way of saying thank you.

Keith Dotson Photography is where you can find his great images. Google him and you'll find several locations for his work.

On my Facebook page Gray by Design, I also try to share as many helpful articles as I can find for all mediums of art, especially in marketing, as we are all diligently working on this every single day.

So I encourage my fellow artists to support your tribe. If you can't afford to buy their work yet, at least share their page or their works, to show support.
We're all in this together!
January 29th, 2019
From Gray Photo Studio Blog, Nov. 2018

Evolution of Photography
Photography used to be a real craft, a skill, something you had to work at to get right. I spent years perfecting my skills with film and darkroom techniques, and then went to four years of college to learn even more.

Then digital came out and everyone was a photographer, or so they thought. A few simple lessons and off they went. I fought it for years, finally gave in and began to learn the new technology. It wasn't that easy but the rewards were still the same.
Post production was the new darkroom, so the effects were still available, through clicks and screens instead of enlargers and papers.

But when the iPhone photographers came on the scene I was really annoyed. Seriously? No need for ISO, aperture, f-stops? That's the real work.
Today I changed my mind, I have been seeing new creators taking the medium to new heights, they're telling a story with their iPhone, creating content beyond the images. They're not just clicking and selling, they're offering advice, inspiring others.
There are many ways to follow them, YouTube has been a great platform for their sharing, and now they're even getting together with other entrepreneurs and collaborating with them on topics that will assist others, uplift them and support their dream.

Yes, I also finally joined Instagram as well ( @jenigrayphoto ). I finally saw the benefits of promoting myself there, with a bit of nudging from others, I might add. Here again, is a platform to give beyond the image sharing, tell a story, share the love, make people feel good.

So OK, I guess I'm onboard for the future of creativity.

January 29th, 2019
From Gray Photo Studio Blog Oct. 2018

Finding Your Pace
I have been in a whirlwind of activity since I returned from my mini vacation out to the Washington State coast in September. I took over 300 images on two different cameras, one film, one digital. Shot some infrared too, on a vacant Ruby Beach! Unheard of - unless you're there really early.

Once back home the editing began, and lasted, for over a month! Other things to do, pesky chores like work and bathing, but once those were complete, back to the computer I went.
RAW conversions, cropping, a little exposure adjustment here, or straightening that crooked horizon there (oops!). In the end I had about 60 images I liked, good enough for the website.

I'm proud of this collection, best work I've done in many years. Basically organic in nature, all black and white, no HDR or over processed looking. Just nice fine art.

Every artist goes into a project with giddy excitement, or dread, sometimes, but anticipation all the same, for a successful outcome. They're not all masterpieces, but they are ours, our art, our creation, our heart and soul. But it's like a bird, you've got to let it fly, release it to the world. Some will like it, some won't. I make it for me and for those that like it. I don't spend any time fretting about opinions, you know what they say about those...

Along with the creation of this new collection, I have had to update some things. Acquired a new domain name for the site I'm currently using, you can visit there anytime at www.jenigrayphotography.com . By next year I hope to have a stand alone site with e-commerce and my own printing company, but for now I'll be using the reliable folks at Fine Art America who do everything from printing to matting to framing and ship it directly to you!

I've also acquired a new laptop that is more current and can handle better photo editing software - soon I hope to be using Lightroom, just like the big kids! For now I am going back and forth between two computers to make it all work.

A million other things, glitches and challenges have come up too, but I just kept going and moving forward, and staying sane. Lots of breaks, rest and positive attitudes had to be in order for this journey.

So my lesson, and my advice, is Pace Yourself! If it's your passion and you love it, keep doing it.
Like that line from The Pursuit of Happiness "If you have a dream, do it, period".
January 29th, 2019
From Gray Photo Studio Blog, Sept. 2018

Celebrating Your Creativity
I usually wake up on the left side of my brain, what do I have to do today, what needs to get done.
Once that's established I start thinking on the right side of my brain, what can I create today.

I usually have to go to work out in the world for a couple hours but once back home I feed my brain (eat healthy food) and get on with creative projects.

We are multidimensional beings, we're not stagnant, linear drones. We need variety, creativity, successful endeavors. It's what fills us up, soothes our soul.

I encourage you to celebrate yourself, your creativity and your accomplishments. You're not done yet, you still have great things to accomplish!
So get out there and do it!
January 29th, 2019
From Gray Photo Studio Blog: Sept. 2018

Photography as Fine Art
I love this medium, it's challenging and addicting and unforgiving. With the onset of the digital format I have found it to be an endless form of entertainment for free!

I've been taking pictures since I was six years old, but really fell in love with the medium when I first moved to California in the mid 70's. I got my first 35mm camera and became obsessed with it. I was close to the coast and forest, so I went there all the time. I took pictures of boats, people, pets, wildlife, etc.
I experimented with color, black and white film and slides. I entered contests and even won a few.

When I moved back to Washington State I decided to go to college and learn more about art, the creative process, and business, with a focus on photography.
In those four years I explored the many areas I could work with photography; commercial, portraiture, fine art. I interviewed working photographers and researched these fields. I got some experience in portrait photography managing a studio in Seattle after I graduated, and did some weddings and events on the side.
I settled on the creative field of fine art photography and have been shooting ever since.

Honestly, I don't think I'm that good, not like these guys you see with fabulous sunsets and eagles and far off places. But I have camera gear I can afford and I'm still doing this part time because I need to work. I had to start over at 50 and it wasn't going so good even then. But my love of the art is my ongoing inspiration.
I love black and white, abstracts, textures and collage. This is where I put my attention.

I have one site where I can offer my finished work that prints it and ships it. It's a great way for the low budget photographer to be able to share their work with the world.
You can visit there at this link: J Gray Pixels . You can also view all of them right here by clicking on the Fine Art Prints tab at the top of this blog.

In this blog I would love to talk about photography processes with you, share some of my findings and explore this medium further.

March 18th, 2018
Exciting news! I'm working on some new publications that will feature my photography and poetry.

The first book, due out soon, is Jesus and the Cheesecake Factory (and other twisted poems). A large collection of my poetry over the years.
The next book is all photography, titled Gray Photography, due out early Spring.
And the third book is titled Raw, Verse and Visual, a brand new collection of photography and poems never before published! Due out late Spring.
They'll all be available from MagCloud Publishing, easy shopping and shipping to any address. You can even preview a few pages first.

With all these new publications and new photography, I need a new Facebook page! Coming soon: Jeni Gray Photographer Poet.
I'd like to start a group there too, for more interaction with other poets and photographers. We creatives need each other!
UPDATE: Created! See most recent blog post for details.

UPDATE! The first two new books are out! Available now on MagCloud Publishing at
http://www.magcloud.com/browse/issue/1431694?__r=200799
http://www.magcloud.com/browse/issue/1431648?__r=200799
Just copy and paste into your browser.
March 18th, 2018
New Facebook Page just for the images and poetry. Combining the two as my new books are also.
I've added a group for sharing others work or conversations about the topics.
So head on over and join in!
January 24th, 2018
I've decided to dig through the archives of my work and pull out some of my portrait work, creating the new People Collection.
The best were shot on film in the 90's when I had a shooting space in my first gallery.

I'd really like to shoot new work of people, but it's been so long I'm not sure where to start.
Street photography intrigues me, but I am concerned about the legalities. I suppose I could carry
model releases with me for subjects I would want to offer for sale.

Film and digital formats will be used.
January 10th, 2018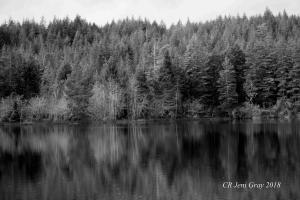 I've been experimenting on my digital camera with images for black and white. I am reminded how challenging it can be to be looking at a colorful scene and try to imagine if it will translate into an artistic black and white.
Still, I like the challenge, and it is all experimental until the new film arrives. I will be shooting Illford 50 and 100 black and white to start. It's winter here in the Pacific Northwest so there are plenty of opportunities.
Stay tuned, I hope to be listing a few of the best ones this week.
This photo is digital with red filter post processing.
January 2nd, 2018
Returning to photography in late 2017.

Just added a few of the old favorites from years past, but for 2018 I will be shooting some film, experimenting with black and white in both film and digital, and improving my wildlife photography.

Thank you for following along, viewing my work and enjoying my images as prints and on products.

Happy New Year!

Jen